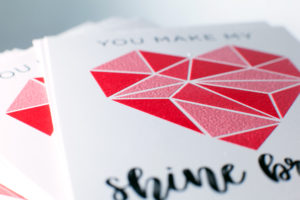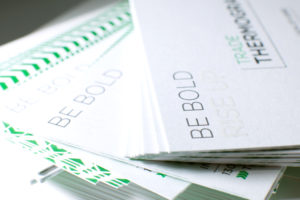 Can I have raised-printing on both sides?
The simple answer is no; raised-printing looks the best on one-side only. If we ran thermo on both sides, then you would very likely see poor quality from overheating and chain marks on the first-run side.
What is matte thermography? Can I get a sample?
Traditional thermography has a glossy finish on it. Matte thermography still has the same textural element, however without the shine.
Yes, you can definitely request a sample of the matte thermography! Send us an email or give us a call and we can pop one in the mail to you. We also send out samples with orders. We design our samples without branding so you can show your clients exactly how it will look.
What is your turn-around time?
Our turn-around times are usually 3-5 business days for production, and 1-2 days for shipping. If you are located outside of the Metro Vancouver area, then please allow for more time for shipping. Production times on larger or more complicated runs are typically 5-7 days.
We try our best to accomodate for quicker turn-around times, however it can't always be guaranteed.
Can you print full colour?
We specialize in 2 to 3 colour printing, and therefore do not print in 4-colour process.
Will you send me a proof?
Yes, we will! We will always send you a proof unless you tell us otherwise. The purpose of a proof is to make sure that all of the elements in the file are correct and that the job specifications are correct. If you don't want a proof on repeat orders or on any jobs you submit, please let us know and we will make a note on your customer file.
Can I get a list of standard inks, premium inks, and special mix inks?
Standard Inks: Process Blue, Reflex Blue, Reds: 185, 199, Warm Red, 215, Greens: 336, 347, 357, Teal 3155, Brown 469, Grey 424
Premium Inks: Gold 872, Silver 877, Copper 876, Yellow 012, Orange 021, Purple 260
All other Pantones not listed are considered a Special Mix ink.